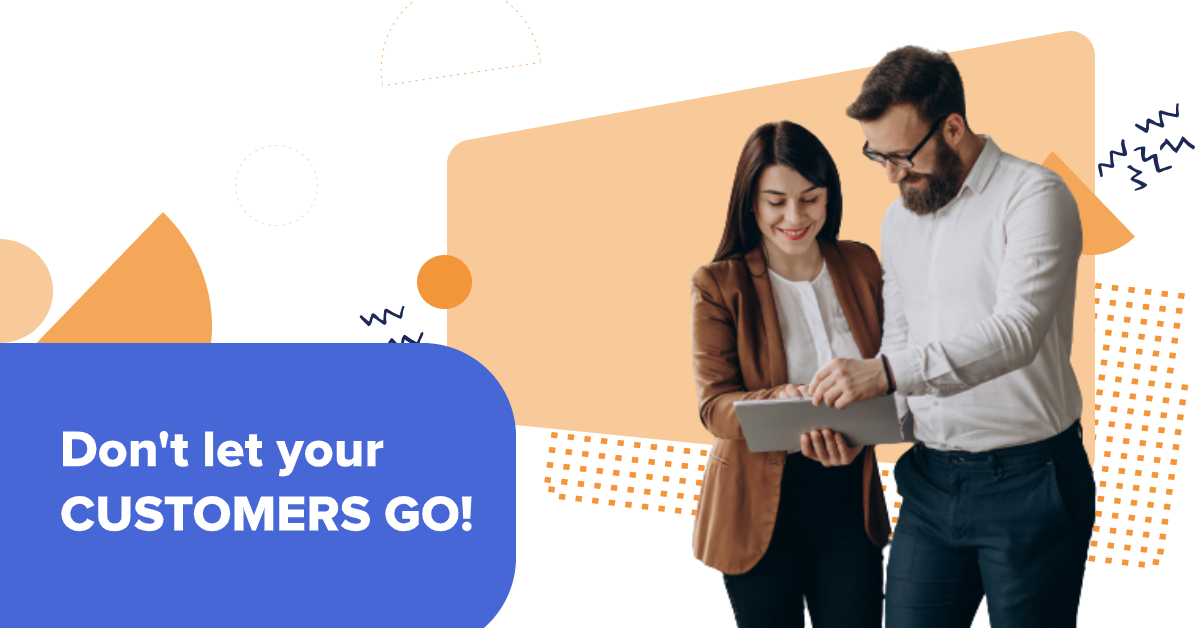 61% of SMBs report that over 50% of their revenue comes from repeat customers, yet most brands don't invest in customer retention as much as they should. There's no single magic trick to convert customers into loyal advocates, but there are tested strategies, and we're here to share them with you
Your investment in customer acquisition is paying off, your product is flying off the shelves, what next? Only the most crucial stage of the marketing and sales funnel: Ensuring customer retention. Research shows that it is 5 times more expensive to acquire new customers than it is to keep a current one. Another study by the Harvard Business School has found that brands enjoy a staggering jump of 25% – 95% in profits with just a 5% increase in customer retention. The verdict is clear: Improving customer loyalty pays big dividends. But with today's digital shopper being exposed to 6,000 to 10,000 ads on a daily basis, how do you remain 'top of mind', even when relegated to the bottom of their feed?
The secret lies in building and nurturing solid relationships.
In this article, we've outlined 7 tips to help you connect meaningfully with customers and shore up your customer retention rate.

But first, let's gain some insight with two important metrics:

Repeat Purchase Rate (RPR)
RPR helps you understand your current customer retention percentage, or in other words, how many customers are engaged enough to make a repeat purchase.
Formula: Number of repeat customers (chosen date range) ÷ Total customers (same date range)
Purchase Frequency (PF)
PF tells you the gap between purchases of a single customer, allowing you to implement strategies to reduce that gap, if too long.
Formula: Total number of purchases (chosen date range) ÷ Number of unique customers (same date range)

With that in hand, let's jump straight to the tips:
1. Wow customers from the get-go (and don't let go)
'Customer experience matters' is like saying, 'the earth is round'. But while the latter doesn't affect your brand (mostly), the former does, in a huge way. And especially when customers encounter your brand for the very first time, because it dictates how the relationship will progress.
Think of your first interaction like a first date, where you want to leave an unforgettable impression, setting you up for many more stellar future dates, and cementing the possibility of a lifelong relationship. Data backs the importance of CX too: According to a 2017 Microsoft study, (a whopping!) 96% of customers around the globe say that CX is an important determinant in their choice of loyalty to a brand. So how can you boost CX? A few tips:

First, improve the appearance, functionality, and responsiveness of your online shop—A healthy balance of visuals and useful content is the way to go
Alongside, embrace a multichannel platform: Offer customers different ways to interact with you, and make purchases smooth and easy
Go live with 'Live chat': It's now the leading digital contact method for online customers, with 46% of customers preferring it
'Checkout' with surprises: Incorporate discounts and offers at checkout, to make sure customers go through with their purchase
Make payments easy: Customers want to be smart spenders; include flexible payment options and subscription models that help them make savvy financial decisions
Appreciate customers, they expect it: Don't forget to send customers a welcome email after their first purchase, offering tips on getting started, or making the most of their purchase; and a thank-you email after every purchase

Zappos, the online shoe retailer, goes the extra mile to ensure great customer experience. Can't make up your mind? Never mind, Zappos offers a 365-day return policy. Need help? Their phone number is on top of every page of their website. Zappos even sent flowers to a customer who couldn't return their shoes on time because of a death in the family, transforming them into a die-hard Zappos fan.

Enhancing your website CX can be easy and rewarding—try it now with Mason. It's the only all-in-one content, design and marketing partner you'll ever need.
2. Put your money on value-add marketing

'Push advertising' gets no love, nor clicks (small surprise, eh?). To avoid 'ad blindness', brands need to focus on delivering real value to the customer, beyond mere purchases. A perfect way to do this is through attention-riveting content marketing that is relevant to your brand.
Take Beardbrand, a men's grooming company, that has cultivated a band of loyal 'beardsmen' with their sassy and deeply informative content. From interviews with urban men sporting beards, to touchy subjects like 'taking care of ingrown hair', Beardbrand keeps customers engaged, entertained, and firmly entwined in its (figurative) beard.
Content marketing aside, small 'extras', like a handwritten thank you note, free gift wrapping, or surprise discounts, also offer added delight and bump up your brand's perceived value.


3. Create an irresistible loyalty program

Loyalty programs are central to any loyalty marketing toolkit—79% of consumers say that loyalty programs make them more inclined to stick with a brand.
Here's how you can make your loyalty program even more enticing:
Time it right: Offer new members a reward they can use on their first purchase, ensuring instant gratification, and showcasing the value your loyalty program provides.
Haircare brand Headstart Shop offers customers an immediate reward just for signing up to their program. They also outline ways in which customers can earn more points, thus opening the door to retail gratification heaven.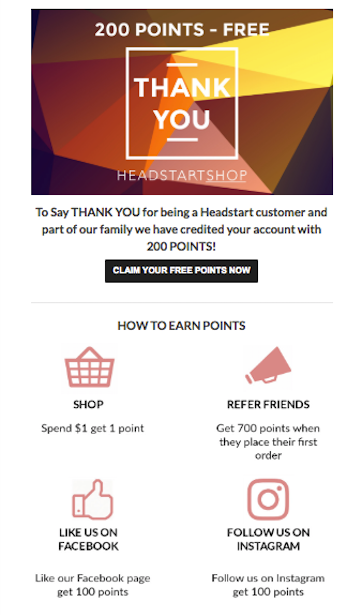 Make it easy and breezy: 56% of customers prefer one loyalty program over another because of ease-of-use and accessibility. Ensure that your loyalty program is app-friendly and well-integrated at the point of sale, aka checkout.

Show them their wins: Your loyalty program is a ray of sunshine in your customers' lives, but do they know that? Remind them of their savings, or what they stand to gain, through personalized emails.
For example, Sephora not only shows customers the total points earned, but it also lets them know how they can redeem it (Makeover, anybody?).

Pssst…Craft action-prompting loyalty-marketing creatives with Mason's templates. You can even customize them for each of your contacts (no limit!), and send them from Mason itself.

Speak to the team


4. Referral programs? Check that.
A good referral program extends two-way discounts—it rewards your customer for spreading the word, and rewards the referred person when they make a purchase.
Many brands, like Airbnb, have been built on the backs of strong referral programs. In fact, Airbnb refined their referral program through constant research: They realized that referral language that made the customer appear more altruistic ('Gift your friends $25' vs. 'Invite your friends, get $25') performed much better. They even helped customers personalize the referral link they shared with friends.


Get more mileage from your referral program: Create and share stunning referral emailers with Mason's ready-to-use email templates—who knew designing could be so hassle-free!
5. Remarket, retarget, repeat
If marketing is important, remarketing and retargeting is everything. These strategies re-engage would-be customers who showed interest but didn't make a purchase, via email or online ads. While retargeting and remarketing aim at converting 'drop-offs', they can be leveraged to retain existing customers too. Launching a new product? Holding a flash sale? Send existing customers an email to trigger a purchase. Invoking FOMO (Fear of Missing Out) with phrases like 'last minute deals,' 'only few remaining', etc. can also improve click-through and conversion rates.
Wondering where to start?  Try tools like Google ads, Facebook ads, or Shoelace (for Shopify users).
Speaking of tools, did you know that Mason offers beautiful templates for online ads/emailers, and it automatically adapts ad creatives to different platform specification? Just saying…
6. Get real with customers

Everybody, right from your grandmother to your hairdresser, has probably told you already: Good Marketing = Great Storytelling.
Consider sharing real stories about your brand and the people behind it—customers who feel a personal connection with your brand are more likely to keep coming back. Dannijo, a jewelry brand launched by sisters Danielle and Jodie Snyder, keeps customers hooked through authentic storytelling. The sisters are not afraid to dish out personal anecdotes on Instagram, where they've amassed over 256K followers.

Emphasis on a shared cause can resonate with customers and make them even bigger fans of your brand. For inspiration, check out iHeartDogs, whose founder invites people to help rehome shelter dogs.

Looking for an 'About page' refresh? Or wish to share your story on Instagram? Design them all on Mason; and share multiple creatives to multiple platforms, with a single click.

Start designing now

7. Build your community
Take storytelling one step ahead, and connect with customers by hosting online/offline events and forums. This will give them a platform to discuss important topics, ask questions and get solutions, paving the way for repeat purchases and word-of-mouth marketing.
Thinx, a female hygiene brand, created a community where they reward women bloggers, health educators, and influencers who share their 'Thinx' experiences, with VIP discount codes and affiliate commissions. This strategy empowers real-life Thinx users and reinforces their cause, thus transforming them, and their circle of followers, into brand loyalists.
To sum up, remember the 80:20 Pareto principle: 80 percent of future profits will come from 20 percent of existing customers. Focus on strengthening your relationship with existing customers, even as you go after new footfalls and eyeballs. And now, time for me to go indulge in some retail therapy, and grab that M&S discount before it disappears…
Need smart marketing advice that works? Talk to the Mason team.