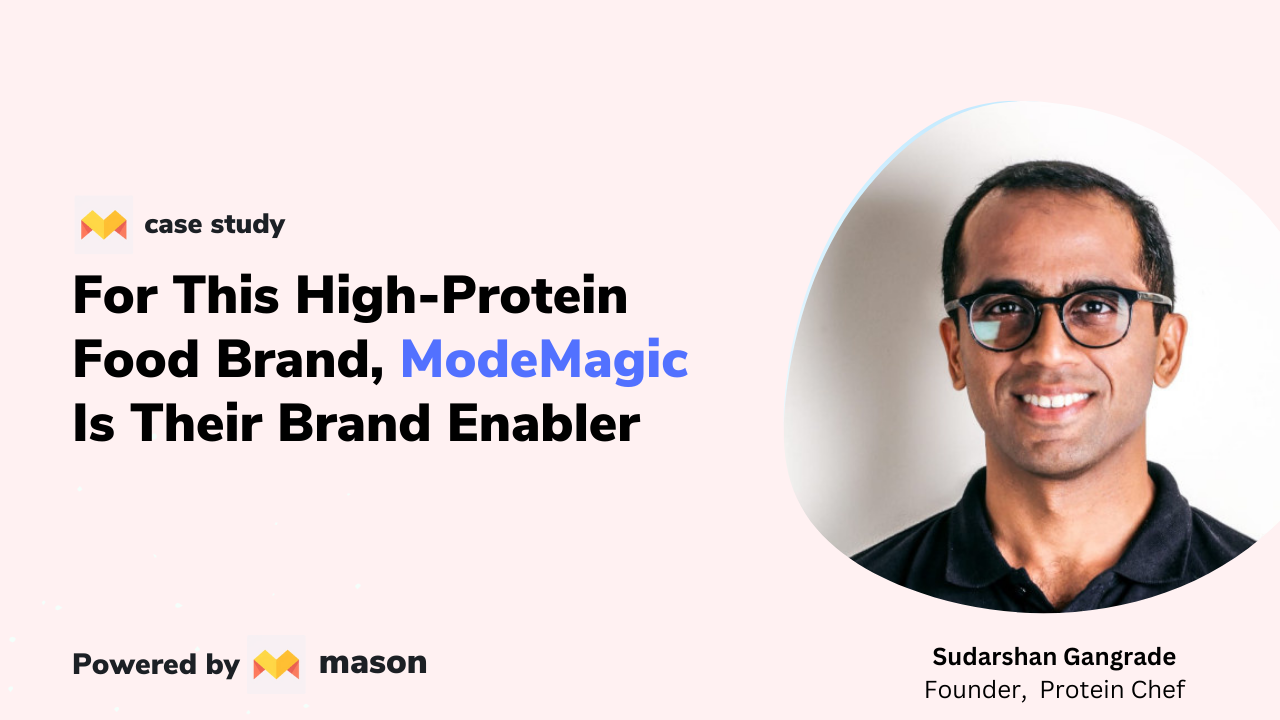 Protein Chef, a part of Bajo Foods, is a unique protein powder that can easily be used in Indian cooking and recipes. Founded by Sudarshan Gangrade, who saw the positive impact of low-carb eating while running a successful boutique health consulting firm called Lean Science.
In just two years, our client has become the top brand in the Keto and Ultra Low Carb space with the highest ratings in all major e-commerce channels. The company is on an ambitious mission to create a healthier and happier India by reducing protein deficiency and carb intake by 50%
Welcome to Sudarshan Gangrade's world, pre-ModeMagic
For Sudarshan Gangrade – Founder & CEO of Protein Chef, ModeMagic was the reliable and flexible store engagement solution they had been looking for. "We wanted to create both awareness and engagement on your site by educating prospective buyers about the benefits of our product. Second, we wanted to increase our brand recognition and loyalty."
"Creating awareness and demand for healthy food in the Indian market, where nutrition is no more than a tagline is a constant challenge." Sudarshan Gangrade, Founder & CEO.
To create awareness among wider audiences, Bajo Foods employs high-profile social media influencers, including Bollywood stars, to promote their brand, category and products.
The problem was that their online traffic had high drop-offs.
Their site had one major problem:
Static Buying Journey: Every visitor landing on the website went through the same journey — regardless of how much problem-aware they are. For Protein Chef, it is important for people to be aware of the protein deficiency in their everyday diet to even think of purchasing their products.
Sudarshan knew if he had to turn the traffic into revenue and loyal customers, the problem had to be fixed. So, he came up with a solution hypothesis:
"We needed an engagement tool that could offer a gamified experience. It should engage and educate visitors about the benefits of our product, and then incentivize them to make a purchase." Sudarshan Gangrade, Founder & CEO
Finding a customizable store engagement platform that's reliable with ModeMagic
With the solution hypothesis in mind, Sudarshan and his product team started exploring different vendors who could help them build it. They soon realized that ModeMagic was the only solution that felt like they needed to partner with.
Why ModeMagic? Sudarshan says it the best:
"The overall responsiveness of the mason team and the solution they had made it one-of-a-kind for us because we knew there would be a lot of customization work involved." Sudarshan Gangrade, Founder & CEO
In less than two weeks of reaching out to mason team, Protein Chef added an interactive pop-up quiz to their site, powered by ModeMagic's customizable platform that today both educates and rewards visitors in exchange for opt-in data.
The quiz prompts the visitor to guess the extra amount of protein they get with the Protein Chef product and offers progressive rewards for each correct answer. The result? More than 80% of visitors are engaged with the interactive quiz, leading to increased awareness and motivation to buy, through rewards and discounts.
Better awareness, higher engagement and improved buying experience
Protein Chef wanted to improve the buyer's journey, build engagement and educate every visitor about the benefits of their products, and ModeMagic helped them achieve all three, and more.
The added bonus was the zero-party data collected via the quiz. "We're a new brand in a new category, and we don't expect consumers to come to our site and buy on their first visit. So having the zero-party data is significantly important for us to nurture and educate them further about our brand and products" shares Sudarshan.
"When we set out to build this tool, we're thinking more from a brand-building part than sales. And ModeMagic has been doing exactly that for us!" Sudarshan Gangrade, Founder & CEO
All in all, Sudarshan is happy that his solution hypothesis is working to both engage and educate each visitor about the benefits of healthy foods — which is a big step towards their mission.