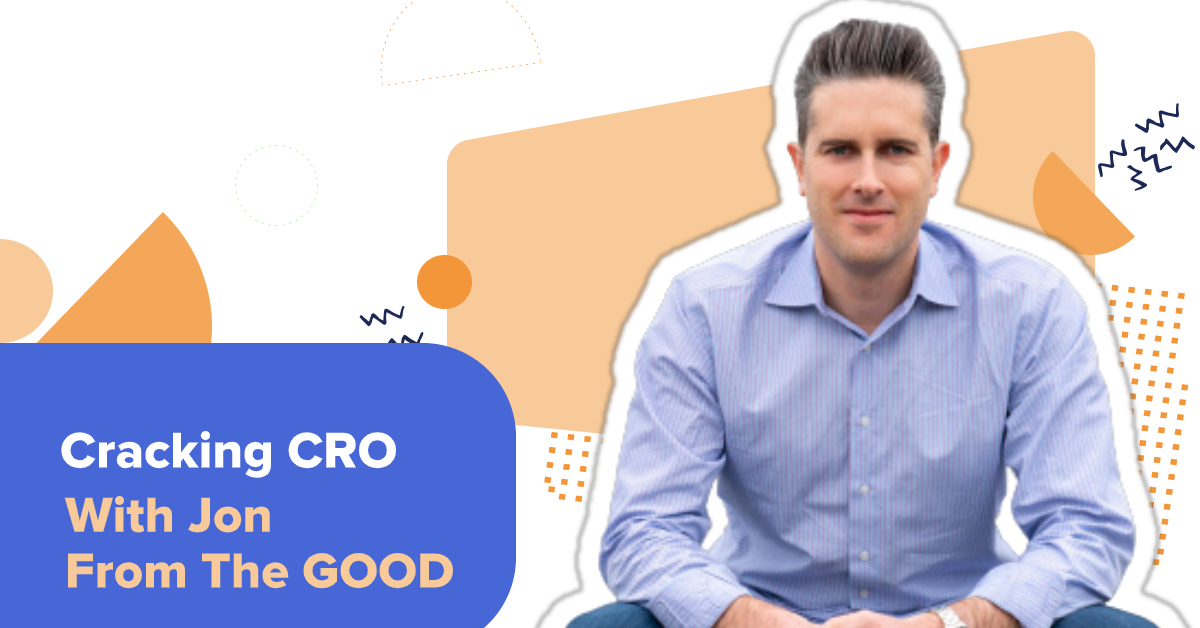 If you are one of the 1.3 Mn businesses having started their e-commerce stores on Shopify, you form the very core of the Shopify Effect! Shopify merchants globally are responsible for having created 3.6 million jobs. So how to amplify this burgeoning effect? The answer is - One New Order!
One new order = more revenue = more employees = more growth.
But to get to this, you'll need to nail the basics of Conversion Rate Optimisation. In this blog, we're decoding CRO with Jon MacDonald, founder of The Good, a conversion rate optimization firm that has achieved results for the largest online brands including Adobe, Nike, Xerox, The Economist, and many more.
---
What is Conversion Rate Optimisation?
CRO can be broken up into 2 simple things -
✔️ Understanding your customers pain-points.
✔️ Helping them solve their problems as easily as possible.
What CRO is not -
❌ A bunch of tool-sets or hacks that would magically get visitors to convert
---
How to get started with Conversion Rate Optimisation?
The 3 non-negotiable to-dos to get started with CRO are:
✔️ Talk to customers like they are your best friends.
It may be over a zoom call or in an intercom chat, but don't miss a single opportunity to talk to your customers. A great idea would be to watch them as they browse your website. Ask them to share their screen while navigating your store and speak about what they are experiencing. This will help in identifying their challenges.
✔️ Watch customers like a hawk.
Track customer journey on your website. Monitor which buttons and sections are getting maximum clicks. Identify if there are common drop-off points. Map the ideal customer journey against actual to identify areas of improvement.
🔩 Tool-tip: Google Analytics and Hotjars are great to map customers path-to-purchase.
✔️ Be helpful to customers (bestie, remember?)
Create touch-points and notifications that would be helpful for customers. For instance, product badges like 'New Collection' help customers reach the latest products quickly. Similarly, badges like 'Few-Left' inform customers that a product is fast-selling.
🔩 Tool-tip: ModeMagic is helpful in finding & automatically applying the right badge based on your Shopify store theme.
---
Ready to break it down further? Let's get into the details:
📌 Pop-ups: Yeah or Nah?
Imagine that you enter a mall and a sales associate jumps at you immediately asking you to fill up a form. Wouldn't that just bug you? E-commerce pop-ups asking first-time customers to 'Join the club' in the first 1 second do just that! It's not that pop-ups don't work. However, you need to place them right. For example: A 20% Off pop-up in the product display page is likely to increase conversions.
📌 Notification bars: We have the secret sauce on this!
After having tested a number of notification bars from promotions to alerts, Jon found 1 message to work in particular which is 'Free Shipping'. It's found that customers are wary of the additional shipping charges that may be applied during the final steps of purchase. Removing this friction upfront with the help of notification bars is effective in increasing conversions.

📌 Navigation Bar: How many tabs is too many?
Keeping in line with the first principle of CRO, your website must solve the customers pain-point. And the navigation is the first place they'd look for their solution. However, packing it with too much information is most likely going to increase cognitive load. It is observed that customers stop finding navigations having more than 5 tabs to be helpful and start scrolling instead.

️️️️✔️ The contact us tab need not be placed in the main navigation. Customers are most likely looking to explore e-commerce websites by themselves. The default behavior is to look at the bottom right corner for the contact details.
✔️ There need not be a separate home page tab. Customers are mostly accustomed to the logo being the default for the home page.
✔️ A blog works wonders for awareness, but not necessarily for conversion. People will most likely land on your blog from google search or a social post. Hence, it's a top-of-the-funnel event. Creating paths for people to read your blog and find a way into your product details page is more crucial than placing it on the main navigation.
📌 Banner: This one is the real MVP.
A high quality product image serves as a great banner. But an important aspect that brands forget is to introduce their unique value proposition right here. Let's take an example of two banner lines -
Active wear for women
Breathable active-wear for all body types
Which one do you think would connect more with customers? The answer is simple. Using a tagline that would highlight what's different about your brand whilst solving customers pain-points is sure to get more clicks!
📌 Product Listing: Don't let them drop-off now!
✔️ Informative yet fun descriptions: In addition to high-quality product images, having fun descriptions are a great way to increase customer-connect.
✔️ Clear Call To Action: A clear call to action like 'Learn More' or 'View Details' are essential to drive the next step in the purchase process.
✔️ Social Proof: Badges like best-sellers or top-rated are great ways to grab attention towards your best products and create social proof.
✔️ Inventory Status: To prevent negative customer sentiment, you must be very honest about your stock status. There will be days when you stock out and if a customer were to show up then, you've lost him/her for life. So updating out of stock status with badges is very important. With ModeMagic app on Shopify, you can do this automatically without any manual intervention.
📌 Footer: The final one.
Here's an ideal footer design which would capture all information and still be well-structured that you could use for your store.
---
Watch these suggestions in action 👇
If you're looking for a thorough analysis of your Shopify store, write to us on support@getmodemagic.io and we'll be happy to talk shop with you!